May 31st Steve Smith and Vital Information NYC Edition
Special Jazz Event:
"drumming great" Steve Smith and Vital Information NYC edition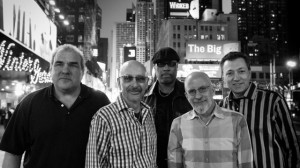 with special guest The Nate Birkey Band
Sunday May 31st, The Radisson Lackawanna Station Hotel Ballroom, Scranton, PA at 7:30pm
for tix and more info: email wings330x@yahoo.com or call Northeast Music Center 570-909-9216
Tickets are available: $25 general seats $20 students $35 VIP seating
Join PAJA on Facebook
Upcoming Events
Keystone College Jazz Institute
The Jazz Institute at Keystone College is a one week summer program that offers an opportunity for students, educators, amateurs and professionals to study and perform with some of New York's and Northeastern Pennsylvania's finest touring and recording jazz artists.
Aug 3-7,  2015
Each year, The Jazz Institute presents its premiere student jazz ensemble at the Scranton Jazz Festival, following the week long educational event.
Our talented faculty will have instruction in the following areas:
Jazz Theory and Ear Training Harmony
Harmony
Improvisation
Jazz Piano Class
Jazz History
Various Jazz Combo
Ensembles
Private Instruction
Rhythm Section Techniques
Vocal Styles and Techniques
Performance and Practice Analysis
Guitar Ensemble
Bass Ensemble
* Music business, music technology, studio engineering, and recording will also be discussed.
To Register
Contact
Leanne Kavulich
570-945-8580
The 2015 Scranton Jazz Festival

For More information please visit http://www.scrantonjazzfestival.org
PAJA & WVIA
PAJA would like to send out a special thank you to WVIA for all their support with the Scranton Jazz Festival. Check local listings for the Scranton Jazz Festival Broadcast by clicking on the WVIA icon below.

Also, please listen to George Graham, every weeknight at 7pm as he brings you:
"All That Jazz."
Northeastern PA: WVIA 89.9 FM
Williamsport: WVYA 89.7 FM
Allentown: 99.3 FM
Bethlehem: 105.7 FM
Clarks Summit: 90.3 FM
Lewisburg: 90.9 FM
Mainesburg: 99.7 FM
Pottsville: 94.9 FM
Stroudsburg/East Stroudsburg: 94.3 FM
Sunbury: 105.7 FM
Wellsboro: 103.5 FM
Willilamsport (southern area) 89.3 FM
Please stop by and visit us @ myspace.com/pajazzalliance. We have lots of info on regional jazz shows and will soon have a music player featuring PAJA artists. It's a great place to interact with fellow PA jazz lovers.